PRODUCT FEATURES
– High efficiency MAINTAINED emergency light
– High luminous efficacy;  > 120lm/W
– Wide 124mm body to avoid patch and paint.
– Anti-rust formed aluminium alloy construction
– High translucent opal diffuser cover
– Microwave sensor with motion + daylight sensitivity.
– Remote controlled microwave sensor
– Manufactured and tested to AS 2293.3:2005
– Emergency classification – D50 (Co) and D25(C90)
– Emergency power 2.5W for 180 min.
CUSTOMER BENEFITS
– Durable and strong construction
– No need to repaint ceilings
– Reduced maintenance costs
– Long operating life
– Eligible for Energy Saving Schemes in VIC and NSW
CONTRACTOR BENEFITS
– Quick and easy installation (side & rear cable entry)
– Large terminal block (connector) for through wiring
– Light weight for easy handling & installation
– Easy clip off cover to speed up installation time
SENSOR FEATURES
On/off control: There are four fixed scene modes programs built in the remote control to choose for different applications.
Detection area: Press the button 'Detection Range' to set detection range as 100%/75%/50%/10% (factory preset: 50%)
Hold-time: Press the button "hold time" to set hold time as 5sec./30sec./1min./3min./5min./10min./20min./30min. (Factory preset: 5min.)
Daylight threshold: Press the button 'daylight sensor' to set daylight threshold a 2Lux/10Lux/30Lux/50Lux/80Lux/120Lux/disable. (Factory preset: disabled).
Stand-by period: Press the button 'stand-by period' to set stand-by period as 0sec./10sec./30sec./1min./5min./10min./30min./+ ∞
Note: ' 0sec.' means on/off control; '+ ∞' means bi-level dimming control. (Factory preset: 5min.)
Stand-by dimming level: Press the button 'stand-by dimming level' to set the stand-by dimming level as 10%/20%/30%/50%. (Factory preset: 10%).
Typical light distribution diagram for a 17W model
Powered by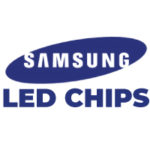 Driven by
Controlled by
EM POWER PACK SPECIFICATIONS
Input: AC 220V-240V 50/60Hz, 0.06A
Output: 4W max, DC 10-42V, 50mA
Battery: LiFePO4 6.4V 2S1P 9.6Wh 1.5Ah Ta:50°C, Tc 70°C
This LED Lighting Solution is eligible for the following Government schemes;